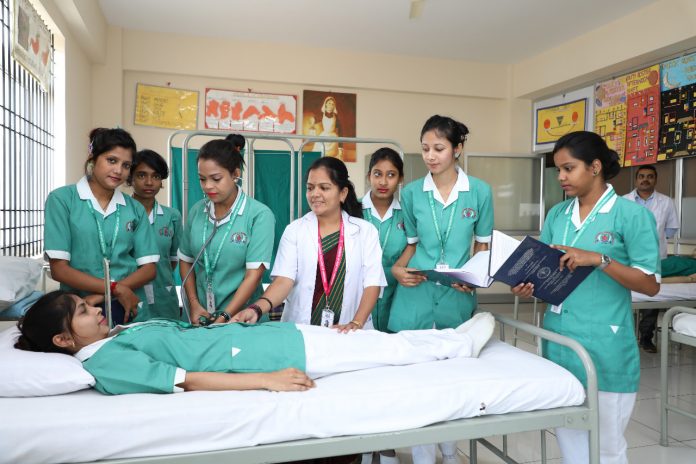 Bsc. Nursing admission 2019-2020
Bsc. Nursing admission 2019-2020 session has already started, for direct admission and to confirm your seat and other queries contact Mr. Bachan (Academic and Admission Counselor). India: +91-9902771237 Nepal:+977-9816969646. Or fill the Nursing Admission Enquiry Form.
Mr. Bachan will lead you and help you in getting admission in Top Nursing Colleges In Bangalore recognized by Indian Nursing Council (INC) and Karnataka Nursing Council (KNC).
Bachelor of Science degree in Nursing or B.Sc Nursing is a 4 year professional course. In India the course is registered under and is controlled by Indian Nursing Council. This course focuses on the promotion, upholding and reinstatement of health and to the avoidance of disease. There are mainly two Bachelor programs in Nursing available in India, Basic B.Sc (4 years) and Post Basic B.Sc (2-3 year).
Eligibility Criteria BSc. Nursing
Qualification :  Student should be 10+2 passed under Science stream (PCB) with English core or elective. S/He should have acquired atleast 45% marks in aggregate from recognized board (AISSCE/CBSE/ICSE/SSCE/HSCE/HSEB)  or other equivalent Board .
Age  : The minimum age for admission should be 17 years till 31st December of the admission year.
Health  : Student should be medically and physically fit and free from any communicable diseases
Benefits of B.Sc Nursing
As the word stands for, Nursing refers to caring the people. It is considered to be one of the noblest profession in the service industry.
The profession is ever demanding and there is a vast opening for the Nursing Graduate worldwide.
The remuneration associated with this profession is lucrative that attracts many prospective candidates.
Career Opportunities after B.Sc Nursing
Plenty of career opportunities are available for nursing nowadays. On the completion of their studies, students can get jobs with many private as well as public sector undertakings. A few of the areas where students can get jobs comprise of:
Clinics and Heath Departments
Defence Services
Hospitals
Industrial Houses and Factories
Nursing Science Schools
Railways and Public Sector Medical Departments
Training Institutes
It is also possible for nursing students to work with charitable institutions such as Old Age Homes and Orphanages.  Job opportunities are available for nurses at Nursing Homes too.
If you have any queries then please fill our enquiry form or leave a comment below.